One Material Endless Possibilities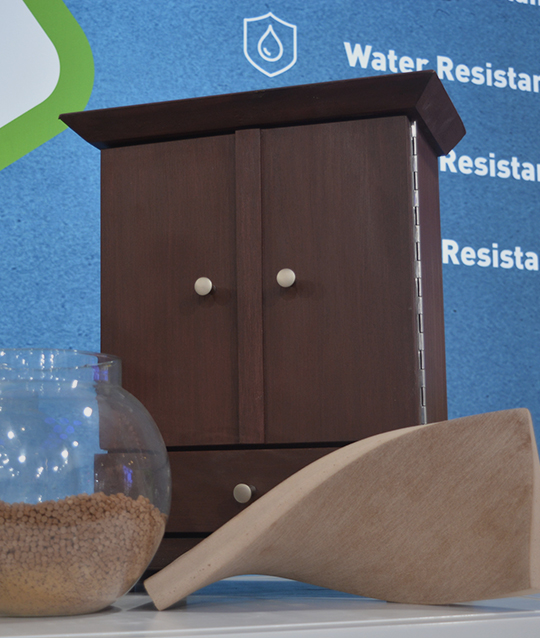 An Innovation that promises to change the spaces around us
RelWood™ is made using the complex PTF technology which for the first time builds a homogenous bonding between the natural fibre and the polymer. This creates a material with the natural look and feel of wood and at the same time is resistant to water, sun, wind and cold that does not splinter- even after many years.
Its unique surface treatment gives it the natural warm feeling of wood on which any kind of surface finishing is possible. It can be used in a variety of applications from outdoor decking and cladding to indoor flooring and paneling to even furniture.
We are a part of Reliance Petrochemicals family. In our constant endeavor to develop products that provide world-class experiences to our customers across a range of applications, we have developed RelWood™ a product never been seen in India. Our vision is for a greener, healthier India. This 100% wood free, VOC emission free, truly sustainable material made with patented technology, is a small step towards fulfilling this vision.
RelWoodTM as compared to other commercially available woods
| Property/ Specification | Standard | RelWood™ | Imported Hard Wood | Teak | Other Wood | Ply/ HDF/ MDF |
| --- | --- | --- | --- | --- | --- | --- |
| Sustainable | | Yes | No | No | No | No |
| Recyclable | | Yes | No | No | No | No |
| Fire Retardancy | ASTM E84 | Class A | Class B | Class B | Class C | Class C |
| Water Absorption | Based on EN 317 | <1% (24h) –RES | 10-15% | 10-15% | >20% | >20% |
| Termite Resistance | ASTM D3345-08 | High | Med | Med | Low | Low |
| VOC Emission | ISO 16000-3/6/9 | Test Passed | Test Passed | Test Passed | Test Passed | Did not pass |
| Thermoforming | | Possible | Not Possible | Not Possible | Not Possible | Not Possible |